News!
Please feel free to follow my Facebook page for more frequent updates

---
January 1, 2019
Happy New Year from Little Whiskers Rattery!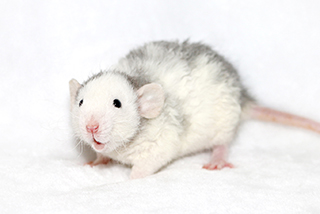 A lot has happened this last month. On November 26th, LWRW Phillis had 12 healthy babies. LWRW Maya followed soon after, giving birth to 8 healthy babies on December 4th. We have added photos of LWRW Phillis' litter on our Available page. Photos of Maya's litters will be up soon!

If you are on the wait list, expect to hear from us by next weekend. Everyone who hasn't heard back from us yet, please know that we received your application! We receive new applications constantly and are trying to determine the best way to add new applicants without being overwhelmed. Please be patient for awhile longer <3

Thanks so much!


---
November 24, 2018

Wow, it has been a very long time since my last update. We really haven't had anything to share, as our attempted pregnancies did not take. I was starting to feel depressed about our luck. However, we are happy to announce that we have two girls expecting babies! See more details on our Planned Litters Page!

Now this means we have to get through our wait list and applications. Oh how behind we are :( There might be a change to how our wait list works, but the people currently on the list won't need to worry about this. More details later when I figure things out.

Now it's time for me to shamelessly plug a calendar I put together. They're all photos of our rats, and all proceeds go towards their care. Plus it's super cute, so pick up your calendar today!

---
June 10, 2018

I just made a pretty big update to the website. I've been behind on pretty much everything. Yeesh!

All babies are doing fantastic, and I'll post some of Facebook as soon as I catch up with the photo editing. Then I need to contact people. Busy busy busy! Keep and eye on the Facebook page the next few days for baby photos!


---

May 22, 2018


Yesterday while I was away on a business trip, LWRW Salish and LWRW Pegasus had their babies <3 My spouse was home to check on them and send me text updates LOL!
Today after I got home, LWRW Chansey started to have her babies too! Three litters within two days... a lot of excitement over here!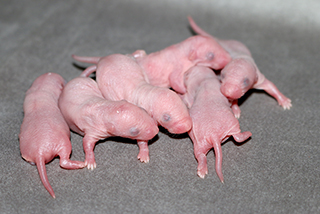 LWRW Chansey x LWRW Woodhouse's Litter
---
May 1, 2018

We're happy to say that tBBR Wigglytuff's litter is still doing fantastic. I'm very behind on getting back to people due to my new work schedule. I'm wiped after work these days and have been slacking. So sorry :(

In order to keep our Marten and Golden lines going strong, we did 3 different pairings today. If all goes well, babies will be due around the end of May. The pairings are:

LWRW Chansey x LWRW Woodhouse
LWRW Salish x LWRW Latte
LWRW Pegasus x LWRW Corvus

Fingers crossed!

---
March 25, 2018

We are pleased to announce that tBBR Wigglytuff had 9 healthy babies!

The babies are doing fantastic and Wigglytuff is a really good mommy. She keeps them clean and well fed. We have an official head count of 9 and I will sex them in a day or two. It has been much too long since our last litter!


---
March 11, 2018

It's a little early to be 100% sure, but it looks like tBBR Wigglytuff is pregnant. If that turns out to be true, they will be due by the end of this month. Unfortunately, we have not been as successful with LWRW Ditto and LWRW Chansey. I updated our planned litter page if you'd like to read more!

Good news for me! I finally replaced my old dying laptop. It took me awhile to get the new one setup with everything I need, but it's finally ready minus a few odds and ends. I'll be going through some applications starting tonight. It always takes me a long time to go through them because we take them seriously and like to go over them thoroughly. I appreciate your understanding :)

I'll keep updating as things progress!
---

February 19, 2018

We're happy to have some updates today!

Last weekend we took back 4 of our lovely girls; LWRW Elwha from our Puget Sound Litter, LWRW Boo, LWRW Peach, and LWRW Wendy from our Mamma Mia Litter. Their adopter couldn't provide them with enough attention and didn't want them to be miserable. They are doing great and are happy and healthy. We are working with them as they have grown a bit shy, but that isn't lasting for long. They now clamor to the cage door when they see us in the room. We will open them up to our wait list in a week or two if anyone is interested in 4 girls around 6 months old.

Our other news is we have officially started pairing our next two couples! Please see our Planned Litter page for more info on our Chrono Trigger Litter and our American Poets Litter. I'll keep everyone updated on pregnancy watch. :) Hopefully we will have some good news in a couple weeks!


---

January 15, 2018

Heads up to everyone on our wait list!

We sent an e-mail out to our current wait list to verify everyone is still interested in adopting. We're working on downloading all of our new adoption applications and want to have an accurate time line for everyone. If you see your name on the wait list but don't see an e-mail from us in your inbox or spam folder, please let us know!

Oh, and check our Facebook page for new photos!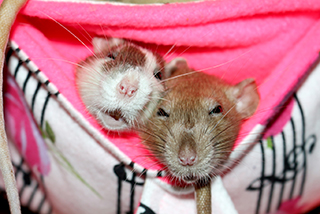 ---
January 8, 2018

It has been quite awhile since our last update. I promise, we are still alive and well, and we are still open and planning litters. We recently had to suddenly move, then both my husband and I took turns being sick, and of course there was the holidays... yeesh!

Anyway, we do have some good news. The website has been updated in a few areas! Please see the updated Mischief page for updated photos of our rats. You can also find that our Planned Litter page has been completely revised, and the Past Litter page has been updated as well.

We have also updated the Adoption page and will finally start catching up on e-mails and applications. This will take some time, so please be patient. More updates to come soon!


---

September 3, 2017


I didn't have a chance to announce it yet, but LWRW Misato had 11 healthy babies on Friday, September 1st! They are adorable <3
Babies will be Russian blue, and there is chance of dumbo ears and rex coat. Should also be some dalmatian babies!
---
August 28, 2017

Good news!! LWRW Rei and LWRW Simon's litter was born! I got a quick photo of Rei's babies. There are 12 little ones with nice big milk bands. She's a fantastic mom!


---
August 23, 2017
More good news! We feel safe to confirm that LWRW Misato is pregnant! She has a baby bump growing, and her weight is up. We're very excited about this!
LWRW Misato and LWRW Zant's litter will have all Russian blue babies. About half of this litter will have dumbo ears, and about half will be rex. There will also be dalmatians, which I adore. I love our marked rats <3
---
August 21, 2017

I am pleased to announce that LWRW Rei is pregnant. She's been making solid weight gain every day, and is starting to get on the chubby side. Our other two pairings haven't taken yet, but they are still honeymooning, so hopefully soon!
LWRW Rei x LWRW Prismo's litter will have velveteen coats, possible dumbo ears, and will be black, agouti, and Russian blue.

---
August 15, 2017

I'm starting to go down my adoption list for our available babies. We held onto the little ones longer than usual since we had a few mystery babies. We weren't sure what color they were since the genetics didn't seem to line up. After some talk with Toyah in the UK, we were able to determine that the babies are Pink-eyed Goldens. Very exciting! That's one more step towards us understanding how the genetics of Goldens works with different dilutes :) Here is one of our little Pink-Eyed Golden bubs:



In other news, we are going forward with a few new pairings. The heat hasn't really helped anyone get in the mood, so we're hoping this cooler weather trend will be beneficial. We'll keep everyone updated as pregnancy watch is currently in action!

---
July 17, 2017

At long last, our current litters page is updated!
I will be contacting people on my wait list soon. I'm also going to get caught up on applications.
Sorry I've been taking so long!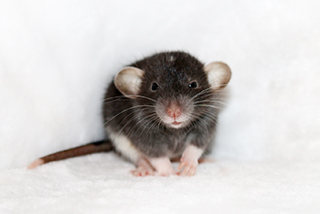 ---
July 13, 2017
Last night I finally got new photos of all the babies. It took almost 3 hours and that's not even counting editing them! I'm also updating my website at long last. I've been so busy! I have some applications and e-mails I need to respond to, so thank you for your patience if you are waiting on me.
---
June 27, 2017
So, things have been going a little rocky at the rattery. ROUS Joan apparently was not lactating very much, so she went and culled her own babies. At first we thought maybe something was wrong with them, and she did as her instincts directed. However, after a couple of days of us thinking she was doing alright, she culled again. The last four babies still looked healthy, but we could tell they were hungry. :( So, the remaining four babies are now with LWRW Kite who has taken them in as her own. Her 3 babies are two weeks old already, but she doesn't mind the additional little ones.
Joan is doing just fine and is back with her friends in the DCN. She really did try her best with the babies. She was with them constantly and kept them clean. She just didn't have enough milk. Unfortunately, this will be her last litter for obvious reasons.
It's been a roller coaster ride with a lot of tears, but at least we can have a happy ending.
Oh, and despite Joan being harley, the babies will be standard coat. Harleys are likely a couple generations away because we want to do it right :) They are super cute though and will have extra soft fur because they carry the gene!
---
June 20, 2017
Good news 
 ROUS Joan just had her babies! She's nursing and cleaning, so I'll check up on the babies in a bit. Yay Joan!
---
June 6, 2017

I'm happy to announce that LWRW Beans had her babies yesterday afternoon! There are 8 healthy little wiggle worms with nice big milk bands. Welcome to the world, little ones!


---
June 2, 2017
Our plans to breed SLR Sprite and SLR Sprout have been put on the back burner for now since the pregnancies weren't taking. We decided to pair LWRW Beans and SLR Sanchez instead. This litter should have our first official Goldens! Also, might I add that she's officially pregnant? :D
We recently paired ROUS Joan Crawford with our boy LWRW Simon, so we're hoping for a bunch of adorable babies with dumbo ears. Colors may vary depending on what recessives they carry. However, all of them will be Harley carries, which means we'll have Harleys for adoption in the future. We're keeping track of her weight and will have more updates soon.

I still have a lot of work to do on my website with updating our planned litters page and such. I just wanted to share the good news to brighten your Friday 
---
May 8, 2017

Quick update! We feel safe to confirm that SLR Sprout is pregnant <3 We still have SLR Sprite honeymooning with Sanchez, so we'll let you know when we think that pregnancy takes as well.
---
May 7, 2017

We are pleased to say that SLR Sprout is pregnant. SLR Sprite is not pregnant yet, but we have her honeymooning with Sanchez again ;o)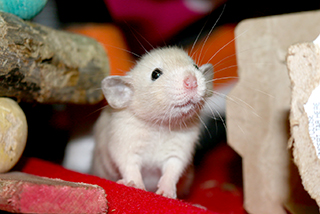 I now have a page made for LASC/SITH Owl and SLR Sanchez's litter so you can enjoy some photos. Please note that all of my babies are reserved for my wait list.

---
April 14, 2017
So I have a bit of a sad update today. Paula went into labor on Wednesday night, and only had one baby. It's a big disappointment to me, because both parents are my favorites. That being said, the baby is doing well and Paula is doing just fine. We ended up putting her baby with Owl's litter so that the little guy wouldn't be all alone. One baby wasn't enough to stimulate enough milk production. Paula is now back with our other girls and is happy as usual. Obviously we will be keeping the little fella. No worries for those on my wait list though. It will not be long before we honeymoon our next two couples.
---
April 12, 2017

LASC/SITH Owl's litter is doing fantastic! We did another count and there are actually 9 babies! The little roly poly babies have full milk bands and are warm and clean. Mom is doing a fantastic job <3
---
April 11, 2017

We are happy to announce that LASC/SITH Owl had her litter today. The labor was a bit rough, but mom is now snuggled with her babies and they all have big milk bands. We didn't get a solid count, but we believe there are about 7 babies.

---
April 6, 2017
Okay, I have good news that I keep forgetting to announce! We are pleased to confirm that both LASC/SITH Owl and LWRW Paula are pregnant! Owl's pregnancy took first, so she's due sometime next week. We think Paula's pregnancy took later, so there is a range of time she could be due. Either way, both have made fantastic weight gain and we are excited for new babies!
---
March 21, 2017
We are happy to say that we have two couples who started honeymooning yesterday. The first pairing is LASC/SITH Owl and SLR Rick Sanchez, and the second is LWRW Paula and LWRW Odo. You can find more information on my Planned Litters page.

Like usual, we will be weighing the girls daily until we see a weight gain trend. We'll be certain to update once we can confirm the pregnancy. Wish the happy couples luck!
---
March 19, 2017
Unfortunately, we believe SLR Panko lost her litter. She started to lose some weight when she should have been gaining. We're both very sad about this news and have been holding off on sharing just in case. This is the second time she's lost a litter, so we are retiring her from our breeding program. We will still get Golden babies eventually, just through SLR Sanchez's offspring. Panko will continue to chill with all of her friends and get loved on for the rest of her life
I should add that we are moving on to our next pairing next weekend, which will be LASC/SITH Owl and SLR Rick Sanchez.
---
March 13, 2017
We are happy to announce that LWRW Troi had 12 healthy babies on March 12th!
Troi is doing a fantastic job and all of the babies are clean and beautiful. I'll be posting photos and videos on my Facebook page if you want top follow along!
---
March 9, 2017
Phew! It took me awhile to put it together, but my planned litter page is finally updated!
Please feel free to have a look!

---
March 5, 2017
Finally, time for some news!
We feel safe to say that both LWRW Troi and SLR Panko are pregnant!
Troi especially is packing on the grams. Babies can be expected as early as mid-March.
I've been doing some work on my website, including updating our planned litters page. We have a lengthy list of tentatively planned litters. The pairs we chose are so good-natured and people friendly that we can't wait to meet their sweet little bubs.
I want to throw out a huge
THANK YOU
to all of our adopters. Your eagerness to learn, your passion for rats, and the loving homes you provide, make this the most fulfilling job I've ever had.
Alright, back to work. I'll have more updates soon!
---
February 18, 2017
I hope everyone has been surviving the snow and ice. I for one am happy to see the rain again!

So some good news! We have begun moving forward on our next two planned litters. Starting today we are honeymooning LWRW Odo and LWRW Troi as well as SLR Sanchez and SLR Panko. We are very excited about these two litters and hope to have some good news in the near future <3 We will also be updating our planned litters page soon, so stay tuned.
Just a quick reminder that I do have a bit of a wait list right now. Please fill out an application if you would like to be added.
---

February 7, 2017
Okay, finally time for an update! I really thank everyone for their patience while we decided how to proceed in terms of the Seoul Hantavirus.
Currently, the CDC status has not changed from my last update. As of yesterday, they have confirmed that no additional people have tested positive for the virus. So far the outbreak has only been confirmed in the original two states of Illinois and Wisconsin.
We have been discussing the issue with other breeders from RatsPacNW. None of us have recently brought in new rats from outside of our group, and no one has been contacted by the CDC. None of us have had any contact with the ratteries outside of our region.
Thankfully, a few of the other breeders in our area have connections, so we have been privy to conference calls held by the CDC as well as information from other creditable contacts. We have used this information to form our decision.
Our final conclusion is that we will remain open and adoptions and breeding plans will proceed as usual. This is honestly a personal decision for each rattery, and I can't speak for others in the area. That being said, it has been determined that the RatsPacNW rat show (Ratapalooza) in April will not be canceled. We will move forward with caution, but we feel secure enough to proceed.
If you have any questions or would like additional details, please let me know. I will start contacting adopters to reserve rats tonight so we can plan adoption dates.
Thanks again for your patience as we muddled through this scare. We really appreciate it.
---

January 30, 2017
I'm guessing by this point some of you have heard about the recent outbreak of Seoul Hantavirus in ratteries. So far the only confirmed infections are in Illinois and Wisconsin, but the CDC is now tracking the outbreak to see if it has spread. There have been no reports of human illness or infected animals in Washington state or any of the surrounding states. We also haven't had any contact with the CDC or the ratteries that have tested positive. Neither have my fellow breeders in the area.
Thankfully, the last time we brought in new rats was well before the reported outbreaks. That being said, we are holding off on releasing any rats from our rattery until the CDC releases more information. We are also unfortunately holding off on our planned litters. We are hope this won't be for too long.
There are a lot of rumors flying around right now, but I encourage you to ignore them. No one needs to panic. It's just stressful because this is a waiting game. We will still go forward with letting people on my wait list reserve babies. Reservation fees will not have to be paid until we know everything is safe and we arrange a time to meet.
I encourage you to read more from the CDC's website.
The Rat Guide is also working with the CDC to provide us with accurate information.
If you have any questions for me, please let me know. I am going to be sharing this on my website, Facebook page, and with those on my wait list.
Thank you for your patience and understanding.


---
January 12, 2017

I suddenly realized I have neglected to update my news page. I apologize! Here are a few new updates to get you all caught up:
All of KBR Marle and LWRW Worf's babies are in their new homes!
SLR Sprout had 9 healthy babies on December 16th! All of them are doing well, and you can find photos on my Facebook Page.
We will soon be adding Joan Crawford to our family! She's a Russian Dove Dumbo Berkshire Harley from Lynn at Rodents of Unusual Sweetness Rattery.
Last but not least, I have been doing some behind the scenes work on my website. I'm trying to better organize the data and will also be giving it a theme change soon.
Oh, and I am slowly getting through applications! I promise! As soon as I have more updates, I'll post again! :)
---
December 16, 2016

I'm happy to announce that SLR Sprout had her litter this morning. She had 9 babies and all of them have big milk bands and look very healthy
CongRATS Sprout!


---
December 15, 2016

Oops! It's been awhile since I updated this page.

I am pleased to say that KBR Marle and LWRW Worf's litter are doing fantastic! They are adorable fuzzy sheep, and there are photos to view here!

We are are also happy to announce that SLR Sprite and SLR Sanchez had their litter on the 12th. She had 10 healthy, squirmy babies :) SLR Sprout is due any day now, and my guess is they will be born tonight. Fingers crossed!

SLR Sprite's litter: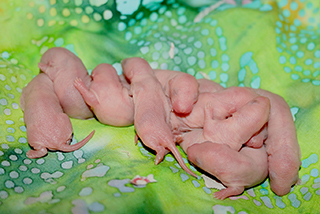 ---
December 4, 2016

I feel like my news page has been a roller coaster lately!
Today we feel confident that both SLR Sprite and SLR Sprout are pregnant. They're making nice weight gain and are both starting to get a belly. Babies are expected between December 11th and December 19, 2016. Of course I'll post again when they are born!
---
November 27, 2016
I hate when I have bad news to share :(

Unfortunately, SLR Panko lost her litter on November 20th. She's fine and doing very well, but the litter did not make it. We will try again after she has had time to recover and heal, but for now, no golden babies.
The second bout of bad news REALLY broke my heart. We found SLR Morty passed away on November 21st. We're not sure what happened, since I was playing with him the day before and he was just fine. All of our other rats are well and he wasn't ill that we knew of, so we think it might have been a heart issue or something along those lines.

This is always the hard part of breeding rats. Sometimes you have great news, and sometimes nature says otherwise. We're grieving right now, but can't forget that we do have one very healthy litter to fawn over.
That being said, we're already moving ahead with our breeding plans. SLR Sprite and SLR Sprout honeymooned with SLR Sanchez between November 20th and 26th. We're keeping an eye on their weight so we can confirm pregnancy. Meanwhile, KBR Marle and LWRW Worf's babies are thriving. There is always a silver lining, no matter how hard things get.

---
November 5, 2016

*** I love it when I have good news to share ***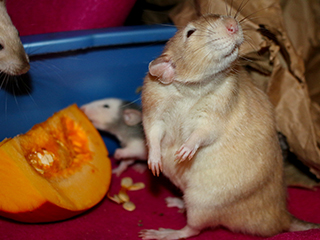 We feel pretty confident in announcing that SLR Panko and KBR Marle (aka Biscuit) are pregnant! They honeymooned with their suitors from October 25th to November 2nd, so babies are expected somewhere around November 15th and November 20, 2016. More information about the expected litters can be found on my Available page.
Of course I will keep all of you updated! Now I need to get through my adoption application backlog. So much to do! <3


---
November 1, 2016
Quick update so I'm not leaving everyone hanging!
Our current pairings are SLR Panko x SLR Sanchez, and KBR Marle x LWRW Worf. They have been honeymooning every evening for a little over a week now. We've seen around a 10-12g increase in weight for both girls, so keep your fingers crossed!
I have a few more applications to respond to as well. I haven't forgotten about all of you lovely people
I've just been busy and my husband hasn't been feeling well. I'll post some more fun stuff on Facebook soon
Thanks!
---
October 18, 2016
I finally updated our Planned Litters page! Phew, that was a lot of work!
It's time for a break tonight, but tomorrow I will go through new applications! Thanks everyone for your patience and kind feedback :)
---
October 15, 2016
So sorry for the lack of updates on my site! We've been super busy, and I've been doing more "behind the scenes" updating to my website.
I'm currently revising our planned litter page, and in the meantime I've been receiving so many fantastic applications! Thank you everyone for your interest in my rattery. I'm so excited to give our future babies excellent homes!
All of our current babies are reserved or adopted, with the last three remaining going to their new home on Thursday, which means I get to love on them a little longer <3
Oh, and I'm sure all of you are aware of the big storm heading in this afternoon. We stocked up on supplies and are ready to wait it out. Stay safe everyone!
---
September 22, 2016
So excited for the rat show this Saturday! We're driving to Port Orchard tomorrow so we can meet for judge training, and then Saturday is the show! We're bringing 9 rats with us (LWRW Worf, LWRW Zant, LWRW Odo, LWRW Simon, SLR Morty, SLR Sanchez, SLR Panko, SLR Sprout, and SLR Sprite), so you can stop by and say hello to them in person! :) This is our first time participating in a rat show, so I'm feeling nervous. However, I'm more excited than anything! I hope to see some of you there. Here is the link with more info <3 http://www.ratspacnw.org/events/fallshow/

Oh, and we will be bringing home this little delight! Meet LASC/SITH Owl. She's a Burmese Dumbo, born Aug. 6 2016.


---
September 18, 2016
I finally have photos of both litters available to look at on my website! Please check out my
Available page
if you want to have a peek :)
I already made my pick of the litter, so I am now going down my wait list. If you're on my list, please keep an eye out for my e-mail. I'll contact you when it's your turn to choose!
Oh, and a quick reminder that I will be showing at the RatsPacNW Fall Show next Saturday, September 24th. I hope to see you there!
---
August 30, 2016

Good news! Troi had 12 healthy babies today! All of them have milk bands, and mom is taking great care of them. CongRATS Troi!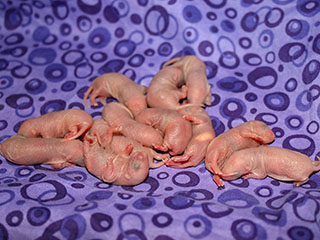 ---
August 27, 2016
We are happy to announce that Jadzia had 8 healthy babies on Saturday, August 27th. All of the babies have nice milk bands and mom is doing a stellar job!


---
August 18, 2016
Good news today!

We are very happy to announce that both LWRW Jadzia and LWRW Troi are pregnant! They have both been making constant weight gain. We expect the babies to be due around next weekend! We're very excited :)


---
August 13, 2016
Hello again! Our girls are still on pregnancy watch, but there has been some weight gain. I want to wait a bit longer before calling it. :) If you want to be added to my current wait list, please see my adoption page!

Anyway! Two bits of good news today!

One, I am happy to say that we will be participating in the RatsPacNW fall show this year! I will be bringing the Goldens I got from Shangri La Rattery and they will be sown under the unstandardized category. My hope is that we can standardize them after the show! Please feel free to stop by, as I will be bringing several of my rats to say hello! Here are the show details!
My second bit of news is just fun! I found out that 4 of my photo submissions for the 2017 AFRMA Calendar were chosen! The calendars are really cute, so please order one while you can :) Yay!



From left to right: LWRW Worf, LWRW Tasha, LWRW Fievel and LWRW Nimh (Lil' Butler), LWRW Radar
---
August 3, 2016
I finally had a chance to get my Mischief page updated with all new photos as well as a little blurb about each rat. Feel free to check it out!
---
July 30, 2016
UPDATE! Planned Litters Page has been revised!
Hello everyone!

We were on a much needed vacation for the last week, and are now ready to start on our next two litters. We also hammered out a revised breeding plan, which I am updating right now. We're looking forward to improving our dalmatian/marked line and starting on our Golden line. I'll post another update once the planned litter page is updated!


---
July 11, 2016
UPDATE!

Neptr and BMO are now reserved!

---
July 9, 2016
A lot of people ended up dropping off my wait list, so I am left with two available boys. If you're on my wait list and want extra boys, let me know. If you're not on my list, submit an application and they could be yours :) These are the available boys:

BMO
Velveteen black berkshire

Neptr
Dumbo beige variegated
---
June 26, 2016

ATTENTION: PEOPLE ON MY WAIT LIST
I am currently contacting people on my list so babies can be reserved. PLEASE NOTE that if I don't get a response from you within a few days, I will have to bump you below the next person in line until I hear back from you.
I'm not trying to be mean, I promise. It's just a bit of a rush for me to get them all reserved, so please keep an eye on your e-mail! Many thanks. :)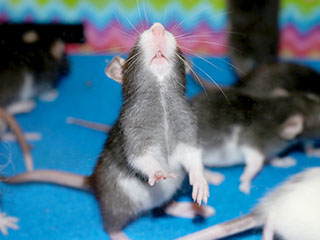 ---
June 21, 2016
I'm happy to say that both litters are doing great. If you don't follow my Facebook page, you might want to check out the photos I just put up.

I'll be contacting people on my wait list to set up reservations. I already made my picks :)

---
June 1, 2016
First, just a bit of bad news. We lost one of KBR Marle's babies :( This happens now and again, and it always upsets me. The remaining 9 babies are thriving, so I'm pleased about that! We have counted 5 girls and 4 boys.
I am very happy to announce that KBR Lucca had her litter yesterday! I haven't been able to confirm the count, but there looks to be 15 babies :D We're very excited!
---